Anyone else having a major desire to go spring/summer shopping?! I have been absolutely broke the past few weeks and with all the warm weather and pay day arriving, I am finding myself wanting to do some major shopping! Here's a few things I have been eyeing...
J.Crew Factory Exploded Eyelet Skirt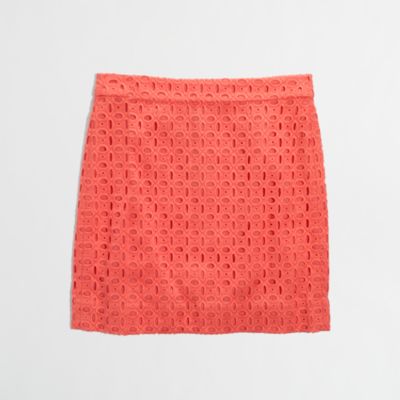 It's beyond me why I haven't actually bought this dress yet. It's by no means expensive and would be perfect to wear to wear with flats to work or paired with wedges for a fun night out. If anyone has this skirt, I would love to know the fit/ how you like it!
Old Navy Ponte Knit Shift Dress
Last week I did bit the bullet and buy this dress, it was on major sale and I couldn't help myself. I had tried it on in black at the store but felt it was a little long and was unable to find a petite size. I was so excited to see they offered in petite sizes online and ended up scooping it up!
Rent the Runway Wild One Dress by Nanette Lepore
I have a few weddings coming up and have been wanting to try out Rent The Runway. I spotted this Nanette Lapore dress and am thinking it could be perfect paired with some nude pumps and gold jewelry. Anyone have any good experience from working with Rent The Runway?
J Brand Anja Jean
I've heard really great reviews about J Brand jeans but have yet to buy any! These look perfect for chillier summer nights and could be great dressed down with flats or jacks or up with wedges and pumps!
House of Harlow Mini Starburst
I have the larger black Starburst pendent and wear it constantly. I am loving the look of this smaller one and think it could be worn just as much as my larger black one!
Wouldn't it be a dream if I could afford all of these things! Sadly some will have to wait but I am loving all the above.
What are some things you have been shopping for?
Yours truly,
Emily