This week I am participating in a new link up hosted by Ann and Morgan! I am so excited for this new link up and couldn't be more excited for them as they take on this new adventure! I am new follower to Morgan of Pampers and Pearls and have no idea how I am just finding out about her blog- it is amazing! If you have not checked it out, I highly suggest you do so, she is one stylish momma that seems so sweet and down to earth! I am a long time follower of Ann and would even consider her one of my "blogger friends." Though we have not yet met, I am hoping a meeting will be in our near future!
This week week I was channeling a chic all black look, with pops of color and gold. Perfect for any summer event from a barbecue to a night out with friends!
Be sure to check out both
Ann
and
Morgan's
page for their Mid Week Muse and participate in the link up and the chance to win a giveaway!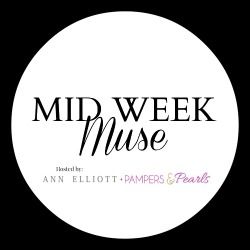 Yours truly,
Emily