Thank goodness it is Thursday! This week has seemed incredibly long given the fact that I only worked 2 days last week in between beach trips! I am beyond ready for this weekend and given that the week has been a little crazy, I have an array of thoughts to share for today's link up...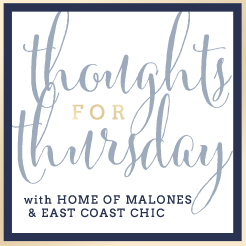 The weather has been absolutely beautiful in Richmond this week and reminded my entirely of fall! I may have taken it a little too far by adding a dash of cinnamon in my morning coffee AND having my first glass of red wine of the season, cheers!
I'm dog/house sitting this week and had a minor incident the other night which ended in me being so scared and in tears I had to call the police to come check the house. Yes you read that right. I was convinced a few things in the house were misplaced and that someone was hiding inside that I actually called the police to come check everything out. Everything was fine but my goodness I was a mess!
During my downtime this week I managed to watch a movie on Netflix per
Allie's
recommendation- The Importance of Being Earnest. I really enjoyed it and thought it was a great easy watch.
Thank y'all so much for your comments and suggestions on what I should treat myself to for my 25th birthday! After lots of thinking I have officially made up my mind and can't wait to share with y'all what I ended up choosing- look for the reveal in tomorrows post!
I have yet to hop on the La Croix trend but am seriously considering trying out this popular drink- any suggestions on what flavor to try first?
It's hard to believe that in just a little over 2 weeks I will be hiking 20 miles in one day! Ultimate Hike is getting closer and closer and this weekend I will be hiking 15 miles... prayers appreciated.
Tess from
Tea Time with Tess
recently posted that she would be going carb free for 30 days. Ever since she posted about it I have not been able to stop thinking about it and how much I want to try it for myself. I'm going to think about it the rest of the week and maybe even begin next week!
Hope everyone is having a great week so far!
Yours truly,
Emily Ann