I am officially back to work after a few days at the beach with my family and already itching to get back on the sand in a few days! This week is a short week, one because I was off on Monday and Tuesday to visit Carolina Beach and two because it's my birthday week and I am off Friday to head to Atlantic Beach to catch up with friends! I can't wait and am so excited to see all of my best girlfriends from college.
This week's Mid Week Muse focused on a casual birthday outfit as this Thursday I will be celebrating the big 2-5 at one of my favorite restaurants in Richmond surrounded by amazing friends. I can't wait and am eager to get these two days of the week out of the way before its back to the ocean! Be sure to check out
Ann
and
Morgan's
link up if you have not yet participated!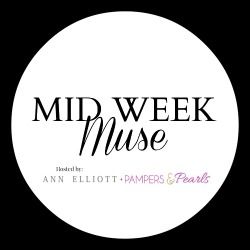 Also in updates- last week I mentioned that my laptop at home had crashed... this unfortunately is still true and it does not look like it will be making a come back. Apparently losing a laptop wasn't enough for last week and my phone also fizzled... terrible luck. Fortunately I was able to get a new one and transfer all my contacts, however all of my pictures have yet to be transferred. At this point I am not sure if they will be able to be transferred and I am so so upset because I had so many things in the works to post on. I will be working on sorting this out and hopefully will regain some sort of technology capability soon! Thank you for you patience and understanding!
Hope everyone is having a wonderful week so far!
Yours truly,
Emily