I normally am pretty sad to see the weekend go come Monday, but today I am really wishing we could rewind this weekend all over again. It was filled with sleeping in, getting together with friends, and enjoying taking it easy. Here's a bit of the weekend looked like...
Friday I headed out of word, snagged a bottle of wine on my way home and spent some time relaxing. Eventually I headed out to dinner with my friend Mackenzie and her sister at Irregardless Cafe. I had never been but Kenz had heard great things so we decided to check it out.
We ordered a few appetizers and entrees to share and had such a good time catching up and enjoying the live music. Next we headed to meet my roommate at Clockwork for a few after dinner cocktails. Clockwork has always been one of my favorite spots in Raleigh, they have a great atmosphere and make a mean cocktail.
My roommate Stewart and I
We hopped to a few more places in downtown Raleigh before heading home and jumping in bed.
Saturday I slept in a bit before heading to the gym for a quick work out. Truth be told, from the snow and busy days over the past 2 weeks, it had been far too long since I had worked out. It felt great to be back in the gym definitely gave me the jump start I needed. After the gym I was craving a smoothie and decided to check out a local Raleigh spot I had heard great things about- Happy and Hale.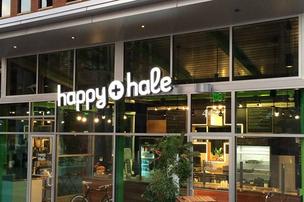 Happy + Hale serves everything from salads, breakfast/veggie bowls, fresh juices, and smoothies. I ordered the Almond Brothers and absolutely loved it, packed with chia seeds, almond milk, banana, almond butter, and cacao nibs...it was amazing.
Next it was off the to Trader Joes for some serious grocery shopping. Due to getting a bit out of control and off my routine the past few weeks, this week is back to business. I have decided a bit of a cleanse is in order and I will be eating as clean as possible. I have even planned out my meals and already have them made and ready for the week! Breakfasts will be spinach and feta egg cups with a piece of toast. Lunches will either be a salad with lettuce, mushrooms, broccoli, onion, peppers, and tomatoes or tuna mixed with greek yogurt in a lettuce wrap. Snacks are apple with almond butter or almonds. Dinners are looking like sautéed veggies and tofu, black bean burgers with sweet potato fries, and salmon with brussels sprouts. I can't wait to get back on track with my gym workouts and healthy eating... look for updates throughout the week!
After grocery shopping I headed out to meet some friends before spending the rest of the night babysitting. While it wasn't the most exciting Saturday night, it was spent with a very cute baby and watching some good 'ol chick flicks.
Sunday I happily slept in again and caught up on a few shows before heading out to the mall to run a few errands. I had hopes of trying out Bare Minerals new foundation- Complexion Rescue but unfortunately they were sold out in the shade I needed. Anyone else tried this foundation? I have heard amazing things and definitely looking forward to trying it myself. While at Sephora, I also picked up this cleanse I had recently heard about and wanted to give it a try.
With claims of a flatter stomach and radiant looking skin, I figured trying it for a few days couldn't hurt. Look forward to a review by the end of the week!
A few of my other purchases from the day included...

My favorite Anthropologie Candle
While I am a bit embarrassed to admit I got this dress in the Juniors department, for just $12 it seemed like a no brainer. With a few wedding and baby showers coming up this spring, I thought it would be perfect paired with nude heels.
The rest of Sunday was spent grabbing one last indulgent meal at Raleigh Times before heading home to meal prep and do laundry.
Overall it was such a relaxing weekend that I am wishing I could reply over and over again. With not too many plans this week, I am hoping for a short and fast week! Hope everyone has a fabulous week!
Yours truly,
Emily Ann