This week is absolutely flying by and I could not be happier that tonight is the official start to my weekend! Today I am linking up again for
Annie
and
Natalie's
new link up- Thoughts for Thursday!
+ From working the past two weekends and a six day stretch I am beyond ready for 3 solid days off! Hello DVR, sleeping in, and catching up with friends,
+ This week I went back to the old school method of actually brewing coffee as opposed to using a keurig and was surprised how much more I enjoyed the flavor. I am a major coffee person, for the morning effects and also its one of my flavors!
+ I am dying to try out
this
new foundation and have heard nothing but rave reviews!
+ Last week at work we celebrated 3 end of chemo treatments in 1 day! We threw a party for all 3 patients and I am still thinking about how much fun it was and how amazing those kiddos are.
+ Last week I talked about getting back in gear with working out and eating a more clean diet. Things are still going strong and here's a breakdown of how things are looking...
Breakfast normally consists of 2 egg whites and greek yogurt with berries and a drizzle of honey.
Lunch is tuna mixed with avocado and a hard boiled egg. I also normally have either a piece of fruit or apple and almond butter.
Dinner has been rotating but consisted of salmon, roasted veggies, quinoa, baked tofu, kale... lots of different things.
As for work outs I have been getting them in before work which has felt awesome. I normally hit the gym 2-3 times for cardio + weights, yoga one morning, an outdoor run, and spin class. So far I am feeling great and looking forward to continuing this routine!
+ One last thought to get us through the day...
Be sure to check out Annie and Natalie's link up for your own Thoughts on Thursday!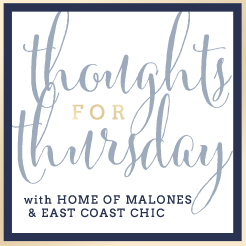 Yours truly,
Emily