This morning I was up early and out the door for a run! Yes thats right I said it...a run. I used to run all the time and I have sadly fallen out of it but definitely excited to get back into it!
You know you had a good run when your ankles are covered in grass.
After my run I made myself a yummy breakfast- eggs, cheese, tomatoes and a piece of veggie bacon
I may have not mentioned yet that I am a vegetarian, well I guess technically I am a pescetarian because I do eat seafood from time to time. Not eating meat is something I personally decided to do for myself but I absolutely have no problem with those who do eat meat! I do miss the taste of a big cheeseburger from time to time.
Also on my agenda today includes making this craft for my moms 50th!
I picked up a great big frame from TJ Maxx and my roommate is being kind enough to let me use some of her burlap! I know I'll be making something else for my mom I'm just not sure what that other craft will be yet!
On Sundays I try to plan out my meals for the week, this is what I'm thinking this week so far...
Definitely making this dish again, it was amazing! My version included rice, beefless beef, black beans, tomatoes, zucchini, shallots, onions, and garlic!
I've been searching for the next fall soup to make in my crock pot and this sounds perfect for this week!
These are super east to make and awesome to grab in the morning when I'm heading to work! I made them a few weeks ago and my version included eggs, spinach, and feta cheese.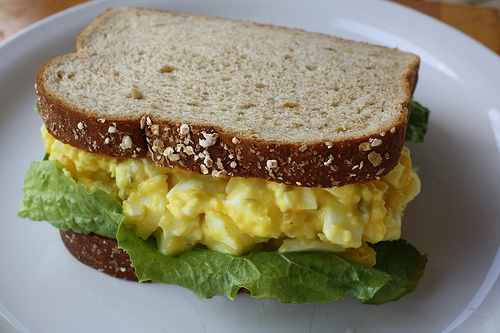 I also have been craving a good ol egg salad sandwich and promised D. I would make him extra to have for the week.
Hope everyone had a great relaxing Sunday!